Global Community
Biographical Sketch of Kofi Annan,
Current Secretary-General of the United Nations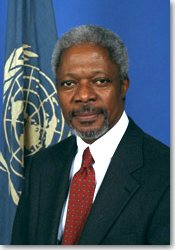 Kofi Annan was born on April 8, 1938 in Kumasi, Ghana-West Africa. He is the son of a tribal chief of the Fante tribe and Kofi's father went on to become a provincial governor. Mr. Annan studied at the University of Science and Technology at Kumasi, Ghana, and completed his undergraduate degee with a Bachelor of Science in Economics from Macalester College in St. Paul, Minnesota in 1961. He also completed graduate studies in economics at the Institut Universitaire des Hautes Etudes Internationales in Geneva, Switzerland. As the winner of a 1971-1972 Sloan Fellowship, Mr. Annan received a Master of Science degree in Management from the Massachusetts Institute of Technology (M.I.T.).
Mr. Annan speaks fluent French, English, German, Spanish and several African languages. Mr. Annan began with the United Nations 36 years ago when he was an Administrative Officer and Budget Officer at the World Health Organization in Geneva, Switzerland. His first diplomatic posting was in 1968 and he is the first Secretary General to ascend to the top job through the ranks. His previous position prior to becoming Secretary-General was as Under Secretary-General for Peacekeeping Operations.
Among the many places he has served as a diplomat for the U.N. are Addis Ababa, Cairo, Geneva, Ismailia, Egypt, and New York. Mr. Annan first gained international recognition during the Persian Gulf War, when he negotiated the release of 900 U.N. staff stationed in Kuwait and Iraq.
Kofi Annan has been married for twenty years to the former Nane Lagergren, a Swedish lawyer who has become an internationally known artist. The Annans have three children. His alma mater, Macalester College awarded him its Trustee Distinguished Service Award in 1994 and in June,1996, CedarCrest College in Allentown, Pennsylvania awarded Kofi Annan the honorary degree of Doctor of Public Service.
US Mission to the United Nations